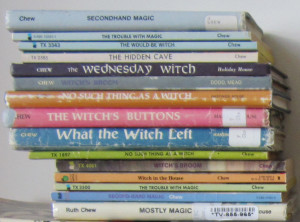 I have ordered and received some used books that will fill in holes in the collection.
Two are really mangled ex-library books, and two are somewhat mangled ex-library books, but some of the hardcover editions are just really hard to get and expensive in ANY condition, so…
The copy of No Such Thing as a Witch is in great shape, though, as are the two pictorial hardcovers and almost all the paperbacks.
Total cost: about US$150, or about $10 each on average, including US shipping.