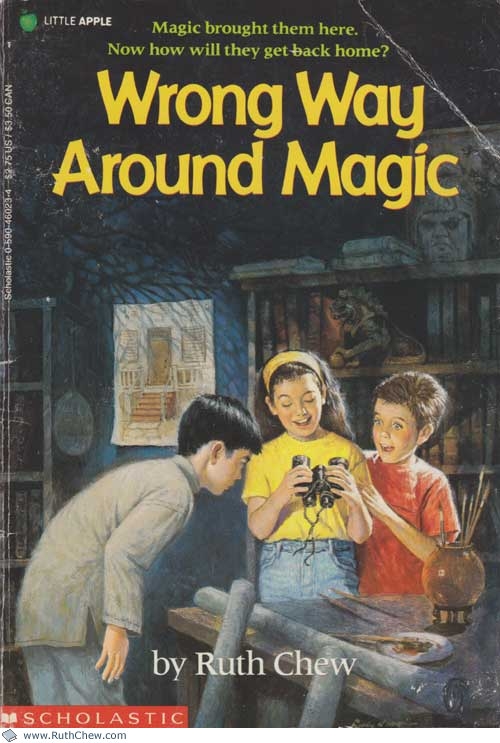 Written and illustrated by Ruth Chew.
First published in 1993 by Scholastic Inc.
Reading Level
Grade 3. Ages 7-10.
Teaser
Chip turned the field glasses back to front. Wilma stood close beside him. What would happen this time when they looked through the field glasses the wrong way?
My Summary
Chip and Wilma find some binoculars in the attic. When they look through them the wrong way at a Chinese landscape painting on the wall, they find themselves transported to a village in China. They are welcomed by Ying and his family. They eat and sleep with the family and help with food-gathering. However, the Elders say that Ying must take the strangers away or they will cause bad luck. Chip, Wilma, and Ying set off down the river towards the Capital City in a boat with a fisherman named Moy. They save Moy and his bird from bandits and continue on to the Capital City, where Ying hopes to become a scholar and work for the government. Moy's cousin helps Chip and Wilma go home by painting a realistic painting of their home, which they look at through the binoculars.
Main Characters
Chip and Willy/Wilma (brother and sister); and Ying (a Chinese boy); Moy and Ding (boatman and his fishing bird)
Other Characters
Mrs. Gerston (Chip and Wilma's mother); Jimmy Murphy; Mee, Heing, Chun, Tang (Ying's sister, brother, father and mother); Toy; Trinh (Moy's cousin)
Places Mentioned
Crag Island, Capital City, Western Lake, China
Themes/Keywords
field glasses (binoculars), foreign culture, time travel, studying, rural life, bandits, mosquitoes, fishing, swimming, painting
Dedication
To my grandson, Liam S. McGrail
Buy this Book
Wrong Way Around Magic at Amazon
Wrong Way Around Magic at Abebooks
English-language Editions
Wrong Way Around Magic (paperback)
Published:
Scholastic (Little Apple), 1/1/1993.
ISBN:
0590460234
Notes:

cover illustration by Rudi Nappi
Translations
むかしむかしの魔女 / Mukashi mukashi no majo (paperback)
Language:
Japanese
Translator:
当陽子訳;たんじあきこ絵. 日当陽子. たんじあきこ. ; Yōko Hinata; Akiko Tanji
Published:
フレーベル館 Furēberukan, 10/1/2016.
ISBN:
9784577043844
Notes:

魔女の本棚 / Majo no hondana (vol 24)