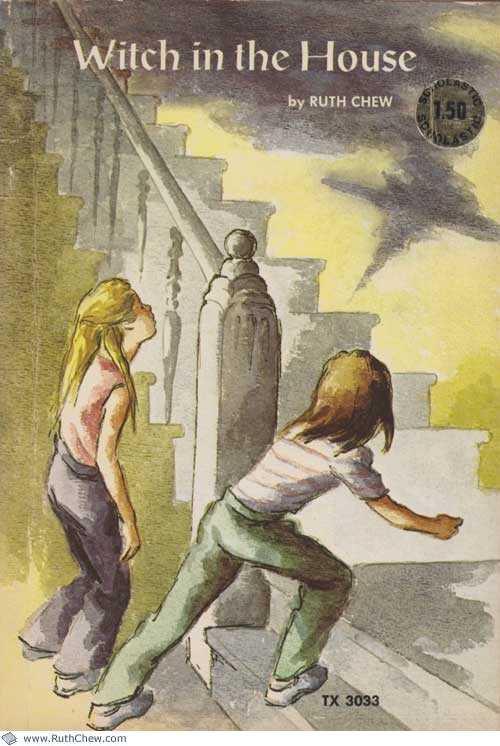 Written and illustrated by Ruth Chew.
First published in 1975 by Scholastic Book Services.
Reading Level
Grades 3-6. Ages 7-10.
Teaser
The bath mat was stuck to the ceiling. Jane poked it. The mat fell halfway to the floor. Then it stopped and floated in the air. "Laura," Jane whispered, "your nutty witch has done something to the mat. I can't get it down." It looks just like a flying carpet," Laura said. Jane slid over so that she was sitting on the bath mat. "It feels steady," she said. "Now, if we could just figure out how to work it…"
Reviewed in
School Library Journal; Feb77, Vol. 23 Issue 6, p62, 1/9p
Buy this Book
Witch in the House at Amazon
Witch in the House at Abebooks
English-language Editions
Witch in the House (paperback)
Published:
SBS, 1975.
ISBN:
0590000934
Witch in the House (paperback)
Published:
SBS, 1975.
ISBN:
TX 3033
Witch in the House (paperback)
Published:
Scholastic (Little Apple), 1993.
ISBN:
0590462814
Witch in the House (hardcover with dust jacket)
Published:
Hastings House, 9/1/1976.
ISBN:
0803880804
Witch in the House (paperback)
Published:
Random House Books for Young Readers, September 13, 2016.
ISBN:
9780449815861
Witch in the House (e-book)
Published:
Random House Books for Young Readers, September 13, 2016.
ISBN:
9780449815854
Translations
糊涂巫婆 / Hútú wūpó (paperback)
Language:
Chinese (traditional)
Translator:
古淑松 / Gǔ Shūsōng
Published:
國語日報附設出版部 / Guóyǔ Rìbào (aka Mandarin Daily News); http://www.mdnkids.com/english_hp/publication.asp, 1982; 1984 (民國 míngúo 71, 民國 míngúo 73).
ISBN:
0789N143
Notes:

Ruth Chew / 陸思丘 / Lusi Qiu; original / 原作 / yuánzuò; translator / 译者 / yìzhě; title means "Confused/Stupid Witch"

Una bruja en casa (paperback)
Language:
Spanish
Translator:
S.A. Edag
Published:
Ediciones Daimon, 1986.
ISBN:
8423129276
Notes:

Estrella mágica (vol 7)

さかさま魔女 / Sakasama majo (paperback)
Language:
Japanese
Translator:
当陽子訳;たんじあきこ絵. 日当陽子. たんじあきこ. ; Yōko Hinata; Akiko Tanji
Published:
フレーベル館 Furēberukan, 6/1/2005.
ISBN:
9784577030011
Notes:

魔女の本棚 / Majo no hondana (vol 3)