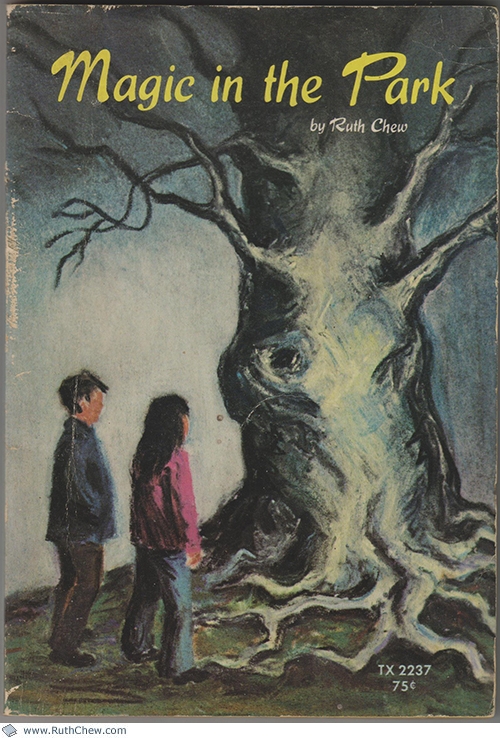 Written and illustrated by Ruth Chew.
First published in 1972 by Scholastic Book Services.
Reading Level
Sprache Readibility Formula: Readibility Level Grade 2.1. Ages 7-10.
Teaser
All around was a strange green glow. Mike stared hard at the trees growing upside down. "You're right, Jen," he said. "They're not branches at all. They're roots. We must be under the ground!" There is magic in the park!
Premise
Jen Mace and her new friend Mike Stewart find magical adventures in Prospect Park.
My Summary
It is winter, and Jennifer Mace is new to Brooklyn. She visits Prospect Park and meets an old man who feeds the birds, a raven named Napoleon, and a boy named Michael Stewart. Jen and Michael explore a magic island in the lake that turns into an underground tunnel, and a magic tree that temporarily turns them into pigeons. In the spring, Jen gets a bike for her birthday, but a mean boy named Steve tries to steal it. Mike helps her get it back, but almost gets stuck as a pigeon!
Main Characters
Jennifer Mace and Mike Stewart (two friends)
Other Characters
Mrs. Mace, Mrs. Craig (Mike's grandmother), Napoleon (a raven), Steve (a mean kid)
Places Mentioned
Brooklyn, Ocean Parkway, Prospect Park, Carbondale
Themes/Keywords
magic, bird man, magic tree, birds, pigeons, squirrels, turning into animals, flying, raven, seagulls, robins, ducks, American Revolution, island, sledding, biking
Dedication
To Eve, who is afraid of the park.
Buy this Book
Magic in the Park
Magic in the Park at Abebooks
English-language Editions
Magic in the Park (paperback)
Published:
Scholastic (Lucky Star), 1972.
ISBN:
059040119X
Magic in the Park (paperback)
Published:
SBS, 1972.
ISBN:
TX 2237
Magic in the Park (paperback)
Published:
SBS, 1972.
ISBN:
0590319434
Magic in the Park (hardcover)
Published:
Random House Books for Young Readers, January 28, 2014.
ISBN:
9780449813751
Magic in the Park (paperback)
Published:
Random House Books for Young Readers, January 28, 2014.
ISBN:
9780449813768
Magic in the Park (library binding)
Published:
Random House Books for Young Readers, January 28, 2014.
ISBN:
9780449813775
Magic in the Park (e-book)
Published:
Random House Books for Young Readers, January 28, 2014.
ISBN:
9780449813782
Translations
Magia en el parque (paperback)
Language:
Spanish
Translator:
S.A. Edag
Published:
Ediciones Daimon, 1986.
ISBN:
8423129233
Notes:

Estrella mágica (vol 8)

公園の魔女 / Kōen no majo (paperback)
Language:
Japanese
Translator:
当陽子訳;たんじあきこ絵. 日当陽子. たんじあきこ. ; Yōko Hinata; Akiko Tanji
Published:
フレーベル館 Furēberukan, 8/1/2014.
ISBN:
9784577042465
Notes:

魔女の本棚 / Majo no hondana (vol 19)

Magia en el Parque (paperback)
Language:
Spanish
Translator:
Published:
Lectorum Pubns Inc, ???.
ISBN:
8423129233