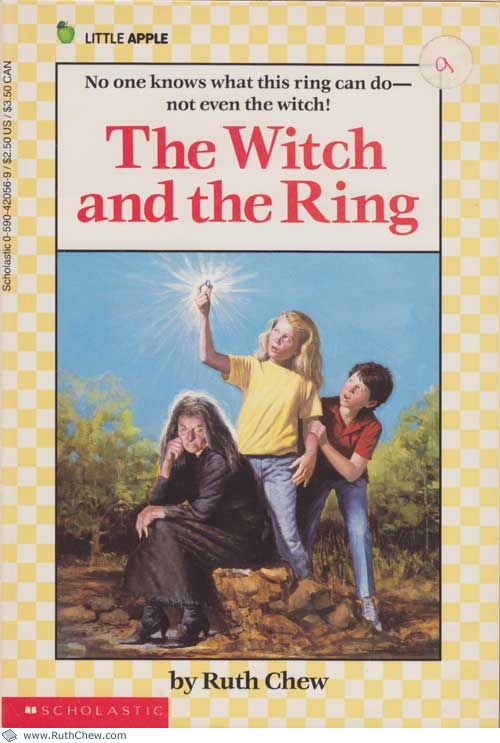 Written and illustrated by Ruth Chew.
First published in 1989 by Scholastic Inc.
Reading Level
Grade 2. Ages 7-10.
Teaser
The entire ring was a deep blue with little slivery flecks that twinkled in the afternoon sun. "Can I see it, Charlotte?" Walt reached for the ring. Charlotte pretended to put the tiny ring on her brother's finger. To her surprise, it went right on. A shiver went down Charlotte's back. She was sure the ring had been much too small for Walt only a minute ago....
Premise
A sister and brother find a ring that brings a special cat, a witch, and a series of adventures into their lives.
Buy this Book
The Witch and the Ring at Amazon
The Witch and the Ring at Abebooks
English-language Editions
Three Enchantment Tales (e-book)
Published:
Random House Books for Young Readers, .
ISBN:
9780385371247
The Witch and the Ring (paperback)
Published:
Scholastic (Little Apple), 1989.
ISBN:
0590420569
Notes:

no credit for cover illustration
Translations
魔女とふしぎな指輪 / Majo to fushigi na yubiwa (paperback)
Language:
Japanese
Translator:
当陽子訳;たんじあきこ絵. 日当陽子. たんじあきこ. ; Yōko Hinata; Akiko Tanji
Published:
フレーベル館 Furēberukan, 2/1/2005.
ISBN:
9784577029992
Notes:

魔女の本棚 / Majo no hondana (vol 1)