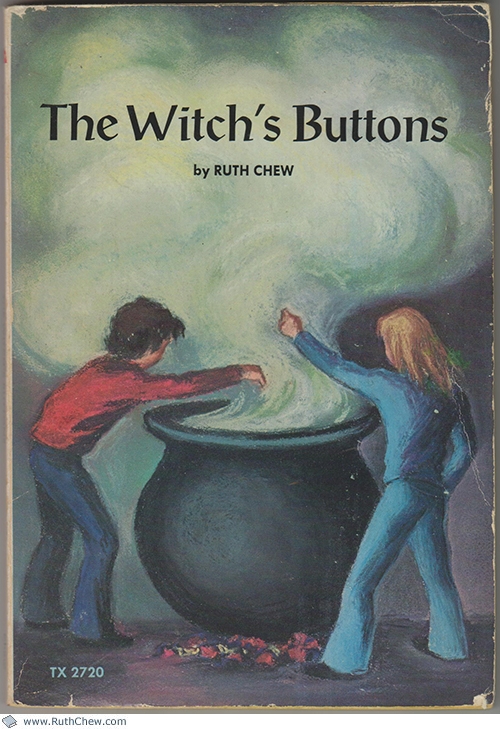 Written and illustrated by Ruth Chew.
First published in 1974 by Scholastic Book Services.
Reading Level
Grades 2-4.
Teaser
Sandy put her hand into her pocket and felt the button. It seemed to twist in her hand. She pulled the button out and looked at it. It was shaped like a tiny man, and there was a grin on his face. Sandy almost dropped the button. "Janet," she whispered, "it's alive!"
Reviewed in
School Library Journal; Mar75, Vol. 21 Issue 7, p86, 1/9p
Premise
A talking button in the shape of a man leads two young girls into a series of magical adventures.
My Summary
Sandy James loses a coat button. When her friend Janet Kramer gives her a bone button shaped like a pilgrim man from her grandmother's button bag, she finds out that the button is really a man named Silas, who has been turned into a button by a witch named Betsy. When a suspicious cat steals the button, Sandy and Janet follow it to an old house, where they see the witch change Silas back into a person. They eat some some apples stolen from the witch, and accidentally turn invisible. After Sandy plays tricks on her classmate Jerry, they both become visible using some of Betsy's witch's brew. Silas, angry with Betsy, steals most of her button collection and turns Betsy into a button, selling her to Sandy's father. Sandy's baby sister Lisa likes Betsy as a button, but Betsy wants to be changed back, so Sandy and Janet use some extra potion on her, and Betsy makes a replacement button for Lisa. The next day, Sandy and Lisa discover that the witch's house has burned down, but in the chimney they find a brass box covered in a leafy feathery pattern, containing the best buttons from Betsy's collection: a faceted black button, a shiny red button, and a pearly white button. They find that the black one grants wishes, the white one is a tiny flying ship, and the red one answers questions. Witch Betsy shows up and takes the buttons away again, letting them keep the chest and presenting them with a mysterious button of their own.
Main Characters
Sandy James and Janet Kramer (two friends), Betsy (a witch), Silas (her brother)
Other Characters
Mr. and Mrs. James, Lisa James (baby sister), Jerry Meyer (a classmate)
Places Mentioned
Thirteenth Avenue, Brooklyn, Church Avenue, Salem
Themes/Keywords
magic, buttons, bone button, antique buttons, cat, magic apples, babysitting, invisibility, witch, potion, wishes, flying, changing into animals, witch's brew, empty house, pilgrim clothes, baking cookies, brass chest, shrinking, spaceship, flying saucer
Dedication
To Sandra Rope.
Buy this Book
The Witch's Buttons at Amazon
The Witch's Buttons at Abebooks
English-language Editions
The Witch's Buttons (hardcover with dust jacket)
Published:
Hastings House, 10/1/1974.
ISBN:
0803880715
The Witch's Buttons (paperback)
Published:
SBS, 1974.
ISBN:
TX 2720
The Witch's Buttons (paperback)
Published:
Scholastic, ???.
ISBN:
0590419072
Three Witch Tales (e-book)
Published:
Random House Books for Young Readers, August 27, 2013.
ISBN:
9780449815885
Notes:

This collection of stories includes The Witch's Buttons; Witch's Cat; and The Witch's Garden.
Translations
魔女のボタン / Majo no botan (paperback)
Language:
Japanese
Translator:
当陽子訳;たんじあきこ絵. 日当陽子. たんじあきこ. ; Yōko Hinata; Akiko Tanji
Published:
フレーベル館 Furēberukan, 8/1/2009.
ISBN:
9784577037126
Notes:

魔女の本棚 / Majo no hondana (vol 8)