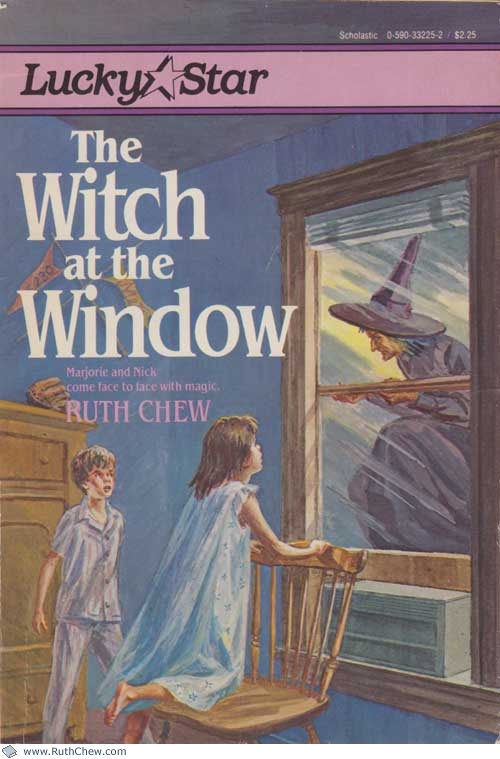 Written and illustrated by Ruth Chew.
First published in 1984 by Scholastic Inc.
Reading Level
Sprache Readibility Formula: Readibility Level Grade 2.2. Ages 7-10.
Teaser
Marjorie and Nick are sure they see a witch standing on the air conditioner outside the window. Then she disappears into thin air! That's just the beginning of some strange adventures for Marjorie and her brother. They meet a talking bird and then find the witch's book of magic spells. They can't wait to try the spell that will make them invisible… Marjorie and Nick are about to learn that magic can be a very tricky business.
Premise
When Nick and Marjorie find a large wooden spoon in the park, they find themselves in an adventure involving a talking starling, a witch, a hollow tree, and a book of magic spells.
Buy this Book
The Witch at the Window at Amazon
The Witch at the Window at Abebooks
English-language Editions
The Witch at the Window (paperback)
Published:
Scholastic (Lucky Star), 1984.
ISBN:
0590332252
The Witch at the Window (paperback)
Published:
Scholastic (Lucky Star), 1984.
ISBN:
0590412191
The Witch at the Window (e-book)
Published:
Random House Books for Young Readers, August 26, 2014.
ISBN:
9780449815656
The Witch at the Window (hardcover)
Published:
Random House Books for Young Readers, September 23, 2014.
ISBN:
9780449815632
The Witch at the Window (paperback)
Published:
Random House Books for Young Readers, September 23, 2014.
ISBN:
9780449815663
The Witch at the Window (library binding)
Published:
Random House Books for Young Readers, September 23, 2014.
ISBN:
9780449815649
Translations
Una bruja en la ventana (paperback)
Language:
Spanish
Translator:
S.A. Edag
Published:
Ediciones Daimon, 1986.
ISBN:
9686024743
Notes:

Estrella mágica (vol 1)

魔女のスプーン / Majo no supūn (paperback)
Language:
Japanese
Translator:
当陽子訳;たんじあきこ絵. 日当陽子. たんじあきこ. ; Yōko Hinata; Akiko Tanji
Published:
フレーベル館 Furēberukan, 6/1/2010.
ISBN:
9784577038383
Notes:

魔女の本棚 / Majo no hondana (vol 10)