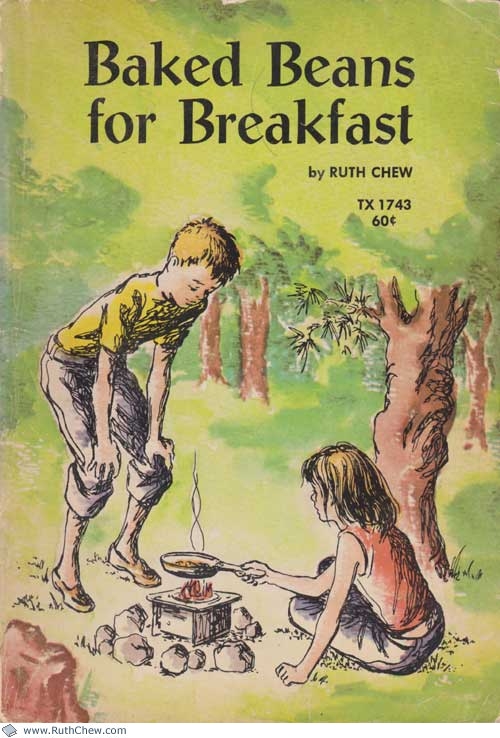 Written and illustrated by Ruth Chew.
First published in 1970 by Scholastic Book Services.
Teaser
"Joe, we shouldn't have run away!" Kathleen was suddenly afraid. But her brother knew there was no turning back now. Every minute the bus was taking them farther away from their home in Brooklyn. "Just think, Kath," Joe said. "We can camp out at the lake all by ourselves. It will be a lot more fun than staying in the city all summer long." "A lot more fun," thought Kathleen, "and a lot more scary!"
My Summary
Joe and Kathleen leave a note for their babysitter saying that they will be staying with their grandmother. Then they catch a bus to their family's summer vacation community. Alone! When they arrive, they buy supplies and camp in the woods (and at one point, eat baked beans for breakfast). Kathleen takes special care of her stuffed animal, Mouse. After they do some chores for an old lady who lives in town, they go back to the store and buy a boat and camp on an island in the middle of the lake. They free a chipmunk from a trap, make friends with some other kids on vacation, and confront two mean boys they already know. They almost get trapped on the island in a rainstorm, but get rescued by the Lake Warden before the island disappears under water. They get permission to stay with the friendly old lady for the rest of the summer.
Main Characters
Joe and Kathleen Dennis (brother and sister from Brooklyn)
Other Characters
Mrs. McCafferty (babysitter), Miss Williams (friendly old woman), Lady Jane (friendly cat), Hank and Jo-Ann (friendly brother and sister), Charley (Hank's best friend), Arthur and Bill Garvey (annoying brothers), Mr. and Mrs. Grenson (the Lake Warden and his wife) Mr. Carey (Lake Superintendent)
Places Mentioned
Hawley, Brooklyn
Themes/Keywords
camping, fishing, swimming, sailing, flood, running away from home
Dedication
To Anne and George and all who helped to build the Pine Needle Cabin.
Buy this Book
Baked Beans for Breakfast at Amazon
Baked Beans for Breakfast at Abebooks
English-language Editions
Baked Beans for Breakfast (paperback)
Published:
SBS, 1970.
ISBN:
TX 1743
The Secret Summer (paperback)
Published:
SBS, 1974.
ISBN:
TX 2702