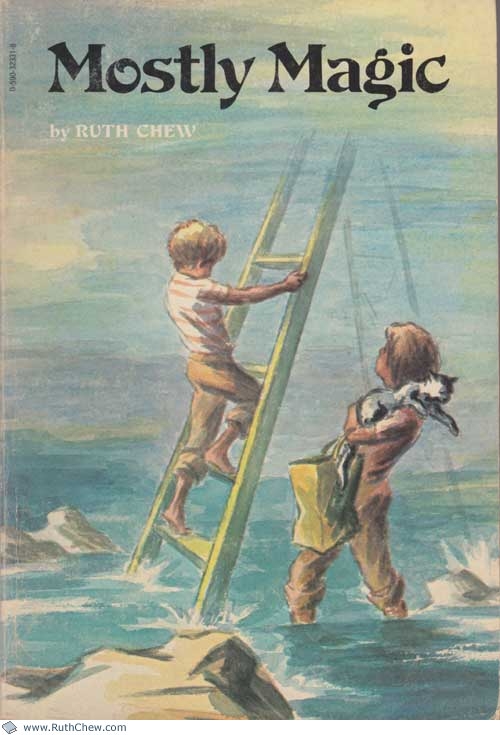 Written and illustrated by Ruth Chew.
First published in 1982 by Scholastic Book Services.
Reading Level
Grades 3-5. Grade Level Equivalent: 5.1.
Teaser
A chill ran down Emily's back. Dick was right. There was something spooky going on. But Emily wasn't really scared. She had always thought magic would be fun. And now it was happening to her!
Reviewed in
School Library Journal; Dec82, Vol. 29 Issue 4, p64, 1/3p
Premise
From the day Pete comes to fix a leak in the house and his miniature ladder opens into a full-size one, a brother and sister experience a series of magical adventures.
Buy this Book
Mostly Magic at Amazon
Mostly Magic at Abebooks
English-language Editions
Mostly Magic (paperback)
Published:
SBS, 1982.
ISBN:
0590323318
Mostly Magic (hardcover with dust jacket)
Published:
Holiday House, 4/1/1982.
ISBN:
0823404501
Three Shrinking Tales (e-book)
Published:
Random House Books for Young Readers, April 28, 2015.
ISBN:
9780449815908
Translations
La escalera mágica (paperback)
Language:
Spanish
Translator:
S.A. Edag
Published:
Ediciones Daimon, 1986.
ISBN:
9686024891
Notes:

Estrella mágica (vol 10)

魔女のふしぎな道具 / Majo no fushigi na dogu (paperback)
Language:
Japanese
Translator:
当陽子訳;たんじあきこ絵. 日当陽子. たんじあきこ. ; Yōko Hinata; Akiko Tanji
Published:
フレーベル館 Furēberukan, 4/1/2015.
ISBN:
9784577042489
Notes:

魔女の本棚 / Majo no hondana (vol 21)