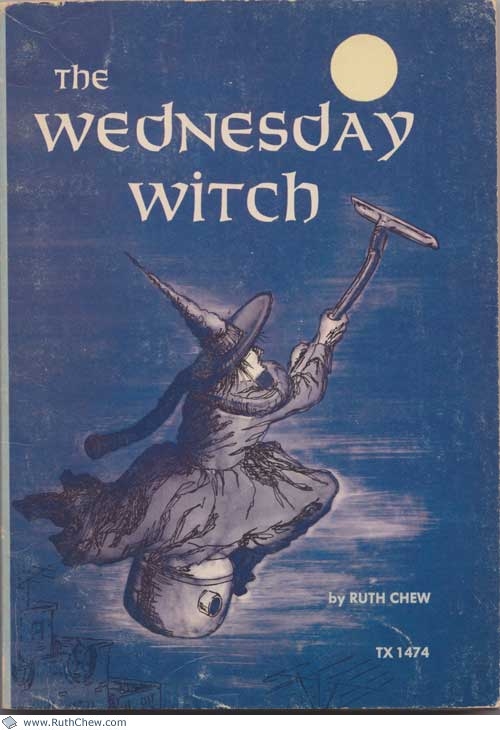 Written and illustrated by Ruth Chew.
First published in 1969 by Scholastic Book Services.
Reading Level
Reading Level: Grade 2. Ages 7-10.
Teaser
Mary Jane's mother has told her not to let any strangers in the house while she's away. But there's someone outside banging on the door. When Mary Jane looks through the peep hole, she sees a short, fat woman wearing a long black dress and a tall pointed hat. Mary Jane thinks she looks just like a witch. The woman outside IS a witch, and Mary Jane is about to meet her face to face!
Premise
The arrival of a witch who travels by magic vacuum cleaner is only the beginning of Mary Jane's strange adventures.
My Summary
The smell of Mary Jane's mother's "Mischief" perfume attracts Hilda, the Wednesday Witch, to Mary Jane's house. The witch pretends to be a cleaning lady, and flies off on her vacuum cleaner James leaving her talking cat behind. Mary Jane gives the cat the name Cinders. When Hilda returns, Mary Jane's mother thinks shes from the vacuum cleaner company and uses James for cleaning, which he doesn't like. Hilda shrinks Cinders with her new magic scissors, but then leaves Cinders behind when she steals Mary Jane's roller skates to get home. Mary Jane finds Cinders inside a new dollhouse sent by an aunt as a late birthday present. She takes Cinders to school and shows her to her friend Marian. On Saturday, Mary Jane and Marian and Cinders take James to the beach for a picnic. Hilda comes back for James, but Mary Janes uses the witch's magic scissors to shrink her. She gets Mary Jane in trouble with her parents for making a mess, and Mary Jane agrees to fly her home to Witch Town, where she looks up the recipe for a magic measuring tape that will make things bigger. Mary Jane and Marian and Cinders help Hilda get the ingredients she needs, and Hilda fixes the real vacuum cleaner, which has also been shrunk. They work together to make a measuring tape, returning Hilda, Cinders, the vacuum cleaner, and some tools to their proper sizes. She takes James, but leaves Mary Jane her skates, which are now able to fold up and to fly!
Main Characters
Mary Jane Brooks, Hilda (the Wednesday Witch), Cinders (her cat), Marian (Mary Jane's friend)
Other Characters
Mr. and Mrs. Brooks, Mrs. Carson (teacher)
Places Mentioned
Brooklyn, Ocean Parkway, Belt Parkway, Brighton Beach, Coney Island, Prospect Park
Themes/Keywords
magic, mischief, vacuum cleaner, cat, flying, witch, shrinking, witch's brew, spells, measuring tape, scissors, doll house
Dedication
To Helen, who asked for a witch story.
Buy this Book
The Wednesday Witch at Amazon
The Wednesday Witch at Abebooks
English-language Editions
The Wednesday Witch (paperback)
Published:
SBS, 1969.
ISBN:
TX 1474
The Wednesday Witch (hardcover with dust jacket)
Published:
Holiday House, 1972.
ISBN:
082340210X
Notes:

Strangely, has the same ISBN as the pictorial hardcover.

The Wednesday Witch (pictorial hardcover)
Published:
Holiday House, 1972.
ISBN:
082340210X
Notes:

Strangely, has the same ISBN as the hardcover with dust jacket.

The Wednesday Witch (paperback)
Published:
Scholastic (Little Apple), 1990s reissue.
ISBN:
059042761X
Notes:

cover illustration by Rudi Nappi

The Wednesday Witch (paperback)
Published:
Random House Books for Young Readers, August 25, 2015.
ISBN:
9780449815564
The Wednesday Witch (hardcover)
Published:
Random House Books for Young Readers, August 25, 2015.
ISBN:
9780449815557
Notes:

apparently cancelled by publisher - not for sale

The Wednesday Witch (e-book)
Published:
Random House Books for Young Readers, August 25, 2015.
ISBN:
9780449815588
Translations
La bruja de los miercoles (paperback)
Language:
Spanish
Translator:
S.A. Edag
Published:
Ediciones Daimon, 1986.
ISBN:
8423129152
Notes:

Estrella mágica (vol 5)

Keskiviikkonoita (pictorial hardcover)
Language:
Finnish
Translator:
Johanna Seppälä
Published:
Karisto, 1990.
ISBN:
9512328925
Notes:

cover illustration by Rudi Nappi

水曜日の魔女 / Suiyoubi no majo (paperback)
Language:
Japanese
Translator:
当陽子訳;たんじあきこ絵. 日当陽子. たんじあきこ. ; Yōko Hinata; Akiko Tanji
Published:
フレーベル館 Furēberukan, 4/1/2005.
ISBN:
9784577030004
Notes:

魔女の本棚 / Majo no hondana (vol 2)

La Bruja de los Miercoles (paperback)
Language:
Spanish
Translator:
Published:
Lectorum Pubns Inc, ???.
ISBN:
8423129152