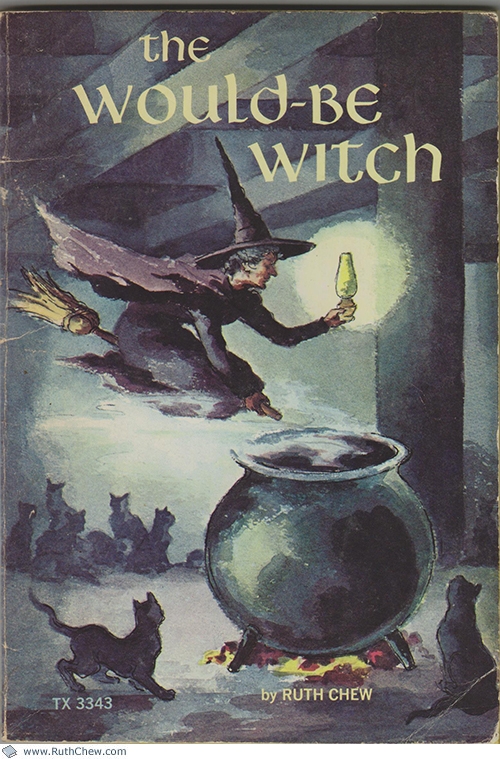 Written and illustrated by Ruth Chew.
First published in 1976 by Scholastic Book Services.
Reading Level
Grades 2-4. Ages 7-10.
Teaser
"Suddenly Andy couldn't see Robin anywhere! ""Rob,"" he called. ""Where are you?"" A little person—no bigger than a bird—stood beside the dustpan. Andy got down on his hands and knees to get a better look. It was his sister, Robin! But how did she get so small?"
Reviewed in
School Library Journal; Dec77, Vol. 24 Issue 4, p43, 2p
Premise
Two children are convinced that the owner of the nearby antique shop is a witch.
Buy this Book
The Would-Be Witch at Amazon
The Would-Be Witch at Abebooks
English-language Editions
The Would-be Witch (paperback)
Published:
, .
ISBN:
0590401203
Notes:

Lucky Star cover

The Would-be Witch (paperback)
Published:
SBS, 1976.
ISBN:
TX 3343C
The Would-Be Witch (paperback)
Published:
SBS, 1976.
ISBN:
TX 3343
The Would-be Witch (???)
Published:
Saunders of Toronto, 1977.
ISBN:
???
The Would-be Witch (hardcover with dust jacket)
Published:
Hastings House, 9/1/1977.
ISBN:
0803880847
The Would-Be Witch (e-book)
Published:
Random House Books for Young Readers, August 26, 2014.
ISBN:
9780449815694
The Would-Be Witch (hardcover)
Published:
Random House Books for Young Readers, September 23, 2014.
ISBN:
9780449815670
The Would-Be Witch (paperback)
Published:
Random House Books for Young Readers, September 23, 2014.
ISBN:
9780449815700
The Would-Be Witch (library binding)
Published:
Random House Books for Young Readers, September 23, 2014.
ISBN:
9780449815687
Translations
La aprendiz de bruja (paperback)
Language:
Spanish
Translator:
Published:
Ediciones Daimon, 1987.
ISBN:
9686024964
Notes:

Estrella mágica (vol ?)

13番目の魔女 / Jūsanbanme no majo (paperback)
Language:
Japanese
Translator:
当陽子訳;たんじあきこ絵. 日当陽子. たんじあきこ. ; Yōko Hinata; Akiko Tanji
Published:
フレーベル館 Furēberukan, 9/1/2008.
ISBN:
9784577036020
Notes:

魔女の本棚 / Majo no hondana (vol 4)