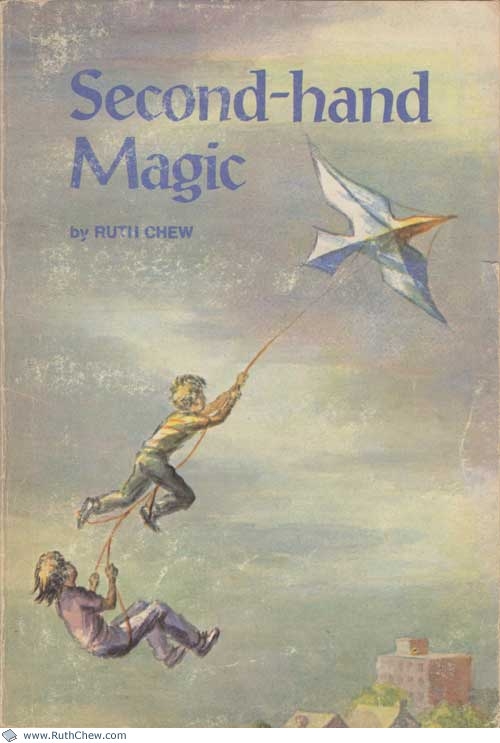 Written and illustrated by Ruth Chew.
First published in 1981 by Scholastic Book Services.
Reading Level
Grades 2-4. Ages 7-10.
Teaser
A full moon was high in the sky. Caroline could see something floating in the air just outside her window. "Bird," she whispered. "You've come back!" She pushed up the window screen. The magic kite sailed into the room. "Now, Bird," said Caroline, "take us to a place where we can have fun."
Reviewed in
School Library Journal; Jan82, Vol. 28 Issue 5, p74, 1/9p
Premise
Two children acquire a magic kite and, with some second-hand items from a nearby store, enjoy a series of adventures.
Buy this Book
Second Hand Magic at Amazon
Second Hand Magic at Abebooks
English-language Editions
Secondhand Magic (hardcover with dust jacket)
Published:
Holiday House, 10/1/1981.
ISBN:
0823404307
Second-hand Magic (paperback)
Published:
Scholastic (Lucky Star), 1981.
ISBN:
0590401181
Notes:

"Lucky star"--Cover. "007-010 RL 2"--P. [4] of cover.

Second-hand Magic (paperback)
Published:
Scholastic, 1981.
ISBN:
0590419919
Notes:

Lucky Star cover

Second-hand Magic (paperback)
Published:
Scholastic, 1981.
ISBN:
0590318578
Secondhand Magic (paperback)
Published:
Scholastic, ???.
ISBN:
0590318578
Secondhand Magic (paperback)
Published:
Random House Books for Young Readers, January 26, 2016.
ISBN:
9780449815823
Secondhand Magic (hardcover)
Published:
Random House Books for Young Readers, January 26, 2016.
ISBN:
9780449815793
Notes:

apparently cancelled by publisher - not for sale

Secondhand Magic (e-book)
Published:
Random House Books for Young Readers, January 26, 2016.
ISBN:
9780449815816
Translations
てづくり魔女 / Tezukuri majo (paperback)
Language:
Japanese
Translator:
当陽子訳;たんじあきこ絵. 日当陽子. たんじあきこ. ; Yōko Hinata; Akiko Tanji
Published:
フレーベル館 Furēberukan, 1/1/2014.
ISBN:
9784577040713
Notes:

魔女の本棚 / Majo no hondana (vol 17)

Magia de segunda mano (paperback)
Language:
Spanish
Translator:
Published:
Ediciones Daimon, 1987?.
ISBN:
9684100140
Notes:

Estrella mágica (vol ?)