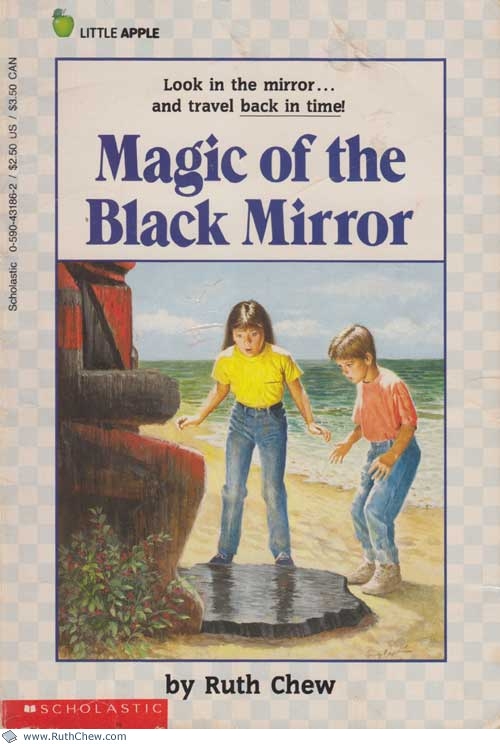 Written and illustrated by Ruth Chew.
First published in 1990 by Scholastic Inc.
Reading Level
Grade 2. Ages 7-10.
Teaser
"Amanda," Will whispered to his sister, "that boy is just like the picture of an Indian I saw in my social studies book." The two children stared at each other. Suddenly Amanda remembered. "The book said this was how the Totem Pole Indians looked long ago!" Neither Will nor Amanda spoke, but now the y both knew what had happened. The black mirror had taken them into the past!
Premise
A brother and sister share a fantastic adventure when a black mirror takes them into the past.
Buy this Book
Magic of the Black Mirror at Amazon
Magic of the Black Mirror at Abebooks
English-language Editions
Magic of the Black Mirror (paperback)
Published:
Scholastic (Little Apple), 4/1/1990.
ISBN:
0590431862
Notes:

cover illustration by Rudi Nappi

Three Adventure Tales (e-book)
Published:
Random House Books for Young Readers, August 25, 2015.
ISBN:
9780449815892
Translations
魔女と黒い鏡 / Majo to kuroi kagami (paperback)
Language:
Japanese
Translator:
当陽子訳;たんじあきこ絵. 日当陽子. たんじあきこ. ; Yōko Hinata; Akiko Tanji
Published:
フレーベル館 Furēberukan, 12/1/2014.
ISBN:
9784577042472
Notes:

魔女の本棚 / Majo no hondana (vol 20)