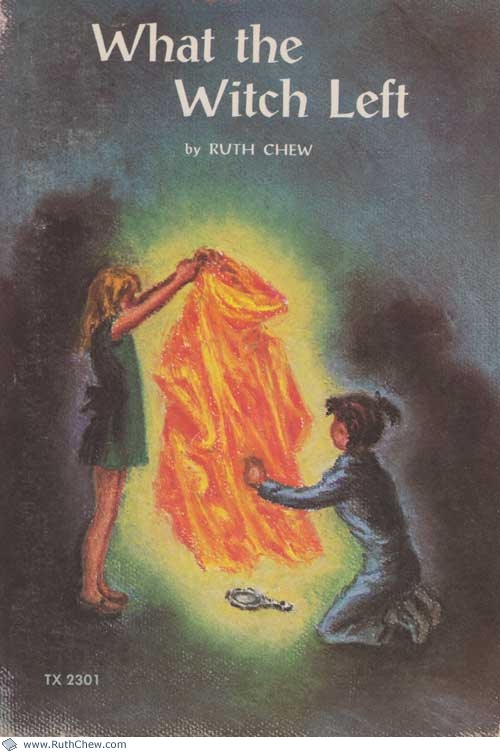 Written and illustrated by Ruth Chew.
First published in 1973 by Scholastic Book Services.
Reading Level
Grade 3. Ages 7-10.
Teaser
Katy's aunt has left some very strange things locked in a drawer… Things that look ordinary but are actually magic! When Katy and her friend Louise unlock the drawer, they learn some very interesting secrets, but they also discover that magic causes a lot of trouble— especially now that Katy has lost the key! Her aunt is coming to get her stuff back, and if she's a witch, she won't be too happy.
Premise
Two little girls have magical adventures with a strange assortment of items they find in a locked drawer.
My Summary
Katy and Louise find some things locked in a dresser: a bathrobe, gloves, boots, a mirror, and a metal box. The gloves seem to make Katy play the piano, do homework, sew, and draw much better than usual. But the two girls get in trouble when they wear the gloves at school. Katy gives Louise the robe from the dresser to use for a costume in the Thanksgiving school play, but it scares everyone when it makes the covered parts of Louise invisible on stage! They decide to try out all the things in the drawer to see if they are magic too. They learn that the boots are seven-league boots, and find some lost jacks in the metal box, which has a picture of a fruitcake on it. They use the boots to go to Mexico, where they meet Pilar and her donkey Pepe, and use the gloves to help her make straw placemats to sell. When they return, they have lost the gloves, but they accidentally figure out how to use the mirror, which shows them Pilar's grandmother selling the mats. They go back to Mexico to see Pilar and look for the gloves, which they find on Pepe's ears. Pilar helps them bargain for somethings in the market, and teach Pilar how to make fancier mats. When they get home, they realize they've lost Louise's father's compass, but they find it in the box. Katy's mother explains that the things in the dresser belong to Aunt Martha, who gave Katy a "magic" rattle when she was a baby that made her stop crying. They drop the key in sewer drain by accident, and fail to retrieve it with a magnet and string, but eventually find it in the magic box, just in time for a visit from Aunt Martha, who wanted her things back.
Main Characters
Katy Turner and Louise Adams (two friends)
Other Characters
Miss Medwick (piano teacher), Mr. and Mrs. Turner, Miss Johnson (teacher), Aunt Martha (a witch?)
Places Mentioned
Brooklyn, Mexico
Themes/Keywords
magic, bathrobe, invisibility, gloves, seven-league boots, metal box, mirror, compass, key, Mexico, bargaining, baby rattle
Dedication
To David Silver.
Buy this Book
What the Witch Left at Amazon
What the Witch Left at Abebooks
English-language Editions
What the Witch Left (hardcover with dust jacket)
Published:
Hastings House, 1973.
ISBN:
0803880650
What the Witch Left (paperback)
Published:
SBS, 1973.
ISBN:
TX 2301
What the Witch Left (paperback)
Published:
Scholastic, ???.
ISBN:
0590455311
Notes:

cover illustration by Rudi Nappi

What the Witch Left (e-book)
Published:
Random House Books for Young Readers, August 27, 2013.
ISBN:
9780449815731
What the Witch Left (library binding)
Published:
Random House Books for Young Readers, August 27, 2013.
ISBN:
9780449815724
Notes:

case / textbook binding

What the Witch Left (hardcover)
Published:
Random House Books for Young Readers, August 27, 2013.
ISBN:
9780449815717
Notes:

original cover art under dust jacket

What the Witch Left (paperback)
Published:
Random House Books for Young Readers, August 27, 2013.
ISBN:
9780449815748
Translations
魔女の宝物 / Majo no takaramono (paperback)
Language:
Japanese
Translator:
当陽子訳;たんじあきこ絵. 日当陽子. たんじあきこ. ; Yōko Hinata; Akiko Tanji
Published:
フレーベル館 Furēberukan, 10/1/2009.
ISBN:
9784577037133
Notes:

魔女の本棚 / Majo no hondana (vol 9)

Lo que la bruja dejó (paperback)
Language:
Spanish
Translator:
S.A. Edag
Published:
Ediciones Daimon, 1986.
ISBN:
8423129063
Notes:

Estrella mágica (vol 3)

Lo que la bruja dejó (paperback)
Language:
Spanish
Translator:
Published:
Lectorum Pubns Inc, ???.
ISBN:
8423129063