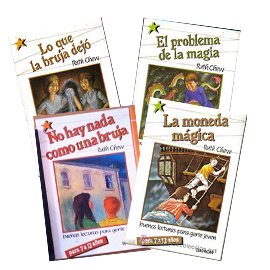 Once in a while I go poking around the internet trying to fill in the gaps in my knowledge about all the editions of Ruth Chew's books.
Sometimes it pays off, because the internet gets bigger all the time.
Today I found THREE books for sale on a Spanish site called TodoColeccion. I've never seen them in person OR online before. I think I've managed to order them.
I also found a better image of No hay nada como una bruja on a Mexican site that appears to be similar in function to craigslist. Since I don't live in Mexico and thus can't meet up with the seller in person, I'm doubtful I'll get to buy that one.
In pursuit of an elusive "Lectorum Publications" Spanish edition, I discovered what I think is a price arbitrage seller on the Amazon Marketplace. The reply to my request for more information about the book for sale was immediate and completely unhelpful, I assume because the seller doesn't actually have the book… I think if I bought from quality7, the seller would go and buy a copy elsewhere to sell to me (at a huge profit). I guess this sort of thing accounts for those crazy prices you see on Amazon marketplace sometimes…